We deal with the full range of spiral wound gaskets ranging from 15mm to 3500mm inner diameter, manufactured to international standards like API 601, ASME B16.2, ASME 16.47 A&B series, DIN, BS, JIS etc. Fillers used are Graphite, Asbestos & PTFE. Approved by all major consultants.
Superior quality of our spiral wound gaskets meeting international standards, is achieved by means of imported computer controlled winding machines, which ensure total repeatability in such critical areas as:
Winding profile
Tensiong of winding
Winding pressure
Number of primary, secondary and tertiary windings
Number of weld points
Weld penetration
All of these factors are vital for control of manufacturing spiral wound gaskets for critical service applications.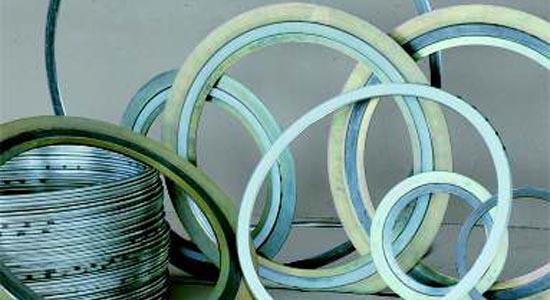 Design principle
The basic sealing component of every spiral wound gasket is the wound element. The unique profiled metal strip is spirally wound to integrate with the specified sealing element material. To improve the mechanical strength and other sealing characteristics and to comply with international standards, some layers at the beginning and at the end are wound without soft material and spot-welded over the total circumference. Consistency of winding tension combined with the profile of the winding, provide for a superior sealing performance.
This advantage is achieved by special process of feeding preformed metal strip and soft filler material.
This gives the gasket, the required recovery properties at designed bolt load, even at fluctuating operating conditions. Spiral Wound Gaskets are now available as sealing elements and also with inner and/or outer rings.
A major requirement of any gasket is its ability to recover and maintain a constant sealing force under variable loads.
The effect of pressure and temperature fluctuations, together with radial forces, stress relaxation and creep, demand a gasket with adequate flexibility and recovery to maintain a seal even under trying conditions. Spiral Wound Gaskets can meet this requirement adequately.
Seal Maintained Under the most exacting Conditions
From Cryogenic to + 900°C
From high vacuum to 400 bar
Thermal cycling, vibration, mechanical shock, dry gases
Ease of Installation
Quick and simple to fit
Do not need grooved or lapped flange face finishes
Can often be used on flanges where other gaskets have failed
Will not cause corrosion
Will not adhere to flange faces when opened, thus minimizing expensive cleaning time.
The Components and construction of Spiral Wound Gaskets, undergo a constant evolution and improvement program to keep pace with the ever increasing demands of industry, in both precision and performance.
Write to us for more information regarding price or availability. We can ship to almost anywhere across the world.
We are importer, exporter, dealer, distributor, stockist in Albania, Algeria, American Samoa, Andorra, Angola, Anguilla (UK), Antarctica, Antigua and Barbuda, Argentina, Armenia, Aruba, Ascension Island, Ashmore and Cartier Islands (Australia), Australia, Austria, Azerbaijan, Bahamas, Bahrain, Baker Island (USA), Bangladesh, Barbados, Belarus, Belgium, Belize, Benin, Bermuda (UK), Bhutan, Bolivia, Bosnia and Herzegovina, Botswana, Bouvet Island (Norway), Brazil, British Indian Ocean Territory, British Virgin Islands, Brunei Darussalam, Bulgaria, Burkina Faso, Burma (Myanmar), Burundi, Cambodia, Cameroon, Canada, Cape Verde, Cayman Islands (UK), Central African Republic, Chad, Chile, China, Christmas Island (Australia), Clipperton Island (France), Cocos (Keeling) Islands (Australia), Colombia, Comoros, Congo, Zaire, Cook Islands, Coral Sea Islands (Australia), Costa Rica, Cote d'Ivoire / Ivory Coast, Croatia, Cuba, Cyprus, Czech Republic, Denmark, Djibouti, Dominica, Dominican Republic, East Timor / Timor-Leste, Ecuador, Egypt, El Salvador, Equatorial Guinea, Eritrea, Estonia, Ethiopia, Europa Island (France), Falkland Islands (Islas Malvinas), Faroe Islands (Denmark), Fiji, Finland, France, French Guiana, French Polynesia, French Southern and Antarctic Lands, Gabon, Gambia, Georgia, Deutschland (Germany), Ghana, Gibraltar, Glorioso Islands (France), Greece, Greenland, Grenada, Guadeloupe (French Antilles), Guam (USA), Guatemala, Guernsey, Guinea, Guinea-Bissau, Guyana, Haiti, Heard Island and Mcdonald Islands (Australia), Holy See (Vatican City), Honduras, Hong Kong, Howland Island (USA), Hungary, Iceland, India, Indonesia, Iran, Iraq, Ireland, Isle of Man, Israel, Italia (Italy), Jamaica, Jan Mayen (Norway), Japan, Jarvis Island (USA), Jersey, Johnston Atoll (USA), Jordan, Juan de Nova Island (France), Kazakhstan, Kenya, Kingman Reef (USA), Kiribati, North Korea, South Korea, Kuwait, Kyrgyzstan, Laos, Latvia, Lebanon, Lesotho, Liberia, Libya, Liechtenstein, Lithuania, Luxembourg, Macau, Macedonia, Madagascar, Malawi, Malaysia, Maldives, Mali, Malta, Marshall Islands, Martinique, Mauritania, Mauritius, Mayotte, Mexico, Micronesia, Midway Islands (USA), Moldova, Monaco, Mongolia, Montserrat (UK), Morocco, Mozambique, Namibia, Nauru, Navassa Island (USA), Nepal, Netherlands, Netherlands Antilles, New Caledonia, New Zealand, Nicaragua, Niger, Nigeria, Niue, Norfolk Island, Northern Mariana Islands, Norway, Oman, Pakistan, Palau, Palestine, Palmyra Atoll (USA), Panama, Papua New Guinea, Paracel Islands, Paraguay, Peru, Philippines, Pitcairn Islands (UK), Poland, Portugal, Puerto Rico, Qatar, Reunion (Bourbon Island), Romania, Russia, Rwanda, Saint Helena (UK), Saint Kitts and Nevis, Saint Lucia, Saint Pierre and Miquelon (France), Saint Vincent and the Grenadines, Samoa, San Marino, Sao Tome and Principe, Saudi Arabia, Senegal, Serbia and Montenegro (Yugoslavia), Seychelles Island, Sierra Leone, Singapore, Slovakia, Slovenia, Solomon Islands, Somalia, South Africa, South Georgia and the South Sandwich Islands (UK), España (Spain), Spratly Islands, Sri Lanka, Sudan, Suriname, Svalbard / Spitzbergen, Swaziland, Sweden, Switzerland, Syria, Taiwan, Tajikistan, Tanzania, Thailand, Togo, Tokelau, Tonga, Trinidad and Tobago, Tromelin Island (France), Tunisia, Turkey, Turkmenistan, Turks and Caicos Islands (UK), Tuvalu, Uganda, Ukraine, United Arab Emirates, United Kingdom, United States of America, Uruguay, Uzbekistan, Vanuatu, Venezuela, Vietnam, Virgin Islands (USA), Wake Island (USA) / Eneen-Kio Atoll, Wallis and Futuna, Western Sahara, Yemen, Zambia & Zimbabwe.
Our valuable clients are situated in Ahmedabad, Ankara, Athens, Atlanta, Bandung, Bangalore, Bangkok, Barcelona, Beijing, Belo Horizonte, Berlin/Brandenburg, Bogotá, Boston, Buenos Aires, Busan, Caracas, Changzhou, Chengdu, Chennai, Chicago, Chongqing, Chūkyō (Nagoya), Dallas–Fort Worth, New Delhi, Detroit, Dhaka, Dubai-Sharjah-Ajman, Frankfurt Rhine-Main, Guadalajara, Guangzhou, Hamburg, Hangzhou, Harbin, Hong Kong, Houston, Hyderabad, Istanbul, Jakarta, Jinan, Karachi, Keihanshin (Kyoto-Osaka-Kobe), Kochi, Kolkata, Kuala Lumpur, Lagos, Lahore, Lima, London, Los Angeles, Luanda, Madrid, Manila, Melbourne, Mexico City, Miami, Milan, Monterrey, Montréal, Moscow, Mumbai, Munich, Nanchang, Nanjing, New York, Paris, Philadelphia, Phoenix, Pune, Qingdao, Randstad, Rhine-Ruhr, Rio de Janeiro, Riverside-San Bernardino, Riyadh, Rome, San Francisco–Oakland, Santiago, São Paulo, Seoul, Shanghai, Shantou, Shenyang, Shenzhen, Singapore, Stuttgart, Surabaya, Surat, Sydney, Taipei–Keelung, Tehran, Tianjin, Tokyo, Toronto, Washington, D.C., Wenzhou, Wuhan, Xi'an, Yangon, Zhengzhou.